To install ProECU, download and run the EcuTek App Downloader. This will download and install the required files and hardware drivers and guide you through the installation process.
Overview
The EcuTek App Downloader is a standalone version of EcuTek Update that will install the drivers for the Hardware Licence Key and the EcuTek USB Vehicle Interface. It will also download the EcuTek ProECU software for your licence key.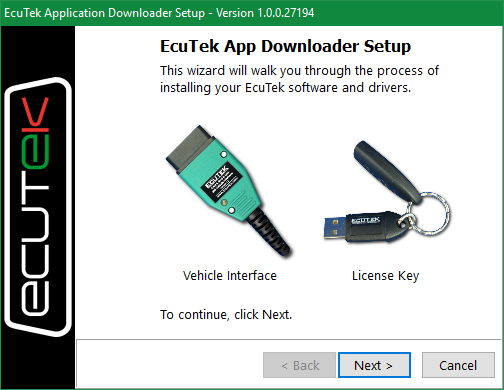 Instructions
Download and run the EcuTek App Downloader
Follow the on-screen instructions to install the drivers
When prompted, plug in your EcuTek Vehicle Interface cable
Ensure your licence key is plugged into your PC
Once the drivers are installed, the App Downloader will then download the required files to install ProECU.
For additional instructions, step-by-step guides, and troubleshooting advice, see the EcuTek drivers and software installation page on our knowledge base.