To install ProECU, download and run the EcuTek App Downloader. This will download and install the required files and hardware drivers and guide you through the installation process.
Overview
The EcuTek App Downloader is a standalone version of EcuTek Update that will install the drivers for the Hardware Licence Key and the EcuTek USB Vehicle Interface. It will also download the EcuTek ProECU software for your licence key.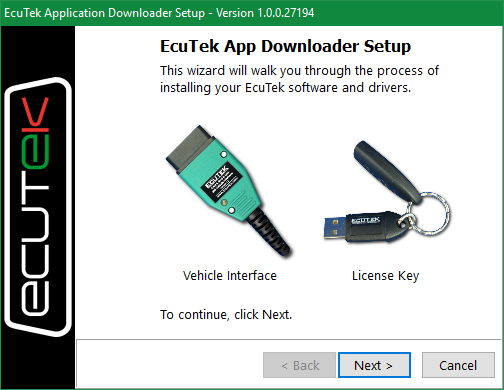 Instructions
Download and run the EcuTek App Downloader
Follow the on-screen instructions to install the drivers
When prompted, plug in your EcuTek Vehicle Interface cable
Ensure your licence key is plugged into your PC
Once the drivers are installed, the App Downloader will then download the required files to install ProECU.
For additional instructions, step-by-step guides, and troubleshooting advice, see the EcuTek drivers and software installation page on our knowledge base.
---
EcuTek Vehicle Interface Firmware
Each EcuTek Vehicle Interface (EVI) has its own boot firmware, main firmware and Bluetooth chip firmware, which we recommend that you always update to the latest version.
The best way to update the EVI firmware is to use ProECU, and this can be used to update both the Bluetooth and non-Bluetooth interfaces.
In ProECU, go to the Options menu and select Vehicle Interface Firmware Update to begin the process of updating the firmware. For further step-by-step instructions, see this article on our knowledge base.

---
Standalone EVI Updater
If it is not possible to update the firmware via ProECU or the ECU Connect App, you can use the EVI Updater tool. This tool performs the same process as ProECU but does not require ProECU to be installed.
After downloading the EVI Updater tool, plug in your EVI cable, and run the tool. Select the Update option to begin updating your cable firmware.