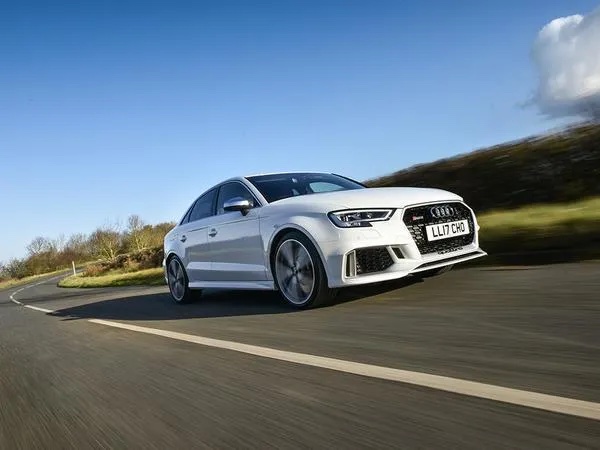 Supported Models
Engine and Gearbox tuning for the following models with the MED 17.1.62 ECUs and DQ500 DSG gearbox:
2017 onwards 8V RS3 EUDM and USDM ECM + TCM
2017 onwards 8S TTRS EUDM and USDM ECM + TCM
2019 onwards F3 RSQ3 EUDM and USDM ECM + TCM
Note: DAZA calibration codes for USDM and RoW, DNWA for OPF Calibration codes EU 6d
EcuTek Dealers can tune both the Engine ECU and the Transmission ECU.
RaceROM Custom Features for the ECM and TCM
RaceROM Custom features are written into our tuning software to give you unique features that don't come as standard. They need to be set up by an EcuTek tuner, and you may be charged extra as they take time to configure.
Four-way Map Switching

Swap between four different maps using either the cruise control buttons or ECU Connect on your mobile device. Have your tuner set up a track map, a street map, an economy map and a self adjusting Flex map for example and switch between them on the fly. Which map you are in will be indicated on the rev counter.
Self Adjusting FlexFuel

No more worries about calculating the ethanol in the tank; our RaceROM self-adjusting flex-fuel does it all for you. Just fit a CANbus enabled Flex Fuel sensor and off you go. Whatever Ethanol content in the tank, the tune will automatically adjust to give you optimal performance. Link up with ECU Connect or use the Sports Display to display the current Ethanol blend. A quick check can be carried out when stationary just by pressing the cruise control button to sweep the tacho needle to display ethanol percentage up to 70%
Up to 8 CanBus Inputs

Add a range of external sensor inputs. For example:Zeitronix ECA-2 ethanol sensor
Zeitronix ZT-3 wideband sensor
Innovate LC-3 multi-sensor
ECUmaster CANswitch
Autosport AnalogX
Custom user-defined CAN sensor

CAN devices such as the AnalogX allow for multiple variable inputs that can be used to import 0-5v sensors, driver trim switches or even a combination including a 0-5v ethanol content signal.
Up to 8 CanBus outputs

Add external drivers or controllers for boost solenoids, water injection, nitrous control, and even secondary port injection.
Sports Display HiJack

Display and adjust your max torque using the sports display or use it as an additional dashboard display to show ECU parameters.
RPM limits for each map switch mode can be displayed on the Rev counter display
Valet Mode

Low power mode with reduced torque together with a time and distance limit giving you peace of mind when the car is in someone else's hands. Arms and disarm using steering wheel controls or via the ECU Connect app.
ECM and TCM Logging

Log the ECM and TCM simultaneously using ECU Connect
RaceROM Transmission Features
Increase the Clutch Clamping Pressure

Lift the factory line pressure limit to limit slip and protect your clutches in cars running high horsepower. Your tuner can also adjust solenoid current limits to add additional clutch pressure.


Adjust vehicle-speed shift points
Adjust shift times, shift schedule, forced up and down shifts
Adjust clutch kiss-points
Adjust maximum torque reduction in drive modes
Set maximum allowed RPM limits for gearshifts.
Adjust Launch control RPM
Remove factory Kick-down option
Log the ECM and TCM simultaneously using ECU Connect.
ECU Connect – Use your Phone to control your tune
Our free ECU Connect App can be used to control some of our custom RaceROM features in conjunction with our ECU Connect Interface. Find out more about ECU Connect here
The following features need to be set up in the tune by your tuner before the ECU Connect App can access them.
Map Switching

Switch between four different modes as detailed above on the fly using your phone.

Adjustable Torque Control

Adjust the torque available in each mode via a slider on your phone
For more detail on ECU Connect features for the Volkswagen, Audi, Skoda, Seat Platform, click here.
And there's more…
Monitor 100s of engine and gearbox parameters
Create unlimited personalised dashboards to monitor what you need.
Click here to find out more about dashboards.
Read and clear DTCs (Diagnostic Trouble Codes)
Reset your ECU
Check your before and after a tune with the Performance Analyser
Set up and send logs to your tuner direct from the app
Note: The above features do not require an EcuTek Tune and are available on nearly all vehicles manufactured after 2008