RaceROM Special features are custom-coded by our in-house developers to enhance your experience when tuned on EcuTek. It's flattering that since 2000 when we developed our first RaceROM Special Features, many Manufacturers have followed our lead and started including them in their standard package. But ever the innovators, we like to stay ahead of the pack and continue refining and developing new features to give you the latest and greatest to enhance your EcuTek experience.
Here is the complete list of features we offer, but please be aware that not every model we support can have all these features. Speak to your EcuTek tuner to discuss what your vehicle can have.
Adjustable Launch Control
THE car's launch RPM is adjustable from the cruise control stalk or via your phone using the free ECU Connect App and can be enabled for any of the four separate customisable modes.
A standalone traction control system for launch control allows you to prevent wheel slip during launch but will not affect normal driving.
Boost off the line (BOTL)
BOTL (Boost-off-the-line) enables you to build boost before launching the car to prevent bogging and lacklustre launches while you wait for the boost to build. You can set the Boost limit on launch either using the free ECU Connect app, or you can have it pre-set by your tuner.
Flat-foot Shifting
FLAT-FOOT SHIFTING allows you to keep your foot flat on the accelerator while changing gear to minimise gear change time and keep engine speed and torque up in preparation for the next gear. 
Reducing the engine torque and controlling the air-fuel ratio during gearshifts, the engine, clutch and drivetrain are not unnecessarily stressed. This is particularly important on forced-induction vehicles where the power output can be substantially increased.
It is also possible to adjust the torque to maximise power when engaging the next gear. This is useful when fitting a stronger transmission or minimises torque to reduce wheelspin on higher-power engines (such as turbocharged or supercharged engines).
Downshift Auto-Blip
The Auto Blip feature applies a short burst of throttle when the driver is down-shifting under braking. This raises the RPM to help provide a smooth entry into the lower gear, reducing engine braking and shock to the transmission.
Accelerator Trim
THIS RaceROM feature allows you to adjust the accelerator pedal response, which is principally useful when using Map Switching to get different pedal responses for each of the four Map Switch modes.
Per-gear Rev Limits
This feature allows individual per-gear rev limits to be configured.

It could be used to improve 0-60mph acceleration, for instance, by allowing a higher second gear rev limit to just hit 60mph (100kph) so avoiding a time-sapping shift into third before that speed is reached, without having to compromise rev limits in the other gears.
Per Gear Boost Control
Your tuner can set up gear and rpm dependant boost targets fully integrated with our FlexFuel strategy offering independent targets and boost limits for gasoline and ethanol. With high and low altitude base wastegate duty maps, atmospheric pressure compensation for boost target, wastegate duty and feedback activation, excellent boost control is possible no matter your turbo installation or operating conditions.
Map Switching
Map switching provides 4 separate customisable tuning modes, which can be changed on the fly by the driver using either the cruise control switchgear, the traction control switches, the defog-switch or the automatic transmission mode switches (only available on models with the automatic transmission).

These modes can be customised to provide bespoke settings. For example:
Mode #1  Economy ‒ the car is tuned to provide the best fuel economy but with reduced performance
Mode #2  Road ‒ the car is tuned to provide the best performance for the regular fuel quality
Mode #3  Race ‒ the car is tuned to provide the best power when using high octane race fuel at the track
Mode #4  Ethanol ‒ the car is tuned to run on Ethanol-based fuels
The map switching also works with other RaceROM features such as Launch Control, Flat-foot Shifting, Throttle Auto-blip or Speed Density. It can also be combined with the RaceROM Custom Maps to enable custom features and functions under certain conditions.
One-Touch Antilag/Rolling Launch
RaceROM Rolling Launch allows you to roll race at the touch of the button. To set, enter the map switch mode in which Rolling Launch is activated. Press and hold the cruise control set button to build boost, adjust your speed with the accel pedal to match your opponent aaand…release the set button and enjoy! The system can be set up using activation time limits, temperature limits and a minimum re-arm time to try and maintain reliability.
Self Adjusting FlexFuel
No more worries about calculating the ethanol in the tank; our RaceROM self-adjusting flex-fuel does it all for you. Just fit a CANbus enabled Flex Fuel sensor, and off you go. Whatever Ethanol content in the tank, the tune will automatically adjust to give you optimal performance. Link up with ECU Connect or use the Sports Display to display the current Ethanol blend. A quick check can be carried out when stationary just by pressing the cruise control button to sweep the tacho needle to display ethanol percentage up to 70%
12 Injector Support
Run 12 injectors with the factory ECU. Using an aftermarket injector driver box combined with a plug and play harness, this feature offers in-depth injector and fuel pump control to phase the additional set of injectors accurately. You can use different-size primary and secondary injectors to retain a perfect idle and drivability, plus high-power fuel flow when you need it.
RaceROM Burble
This feature allows you to adjust the factory Burble. Switch between a range of soft to hard on the fly, or even disable completely for full stealth mode.
Valet Mode
Put the car into a low power mode with limited torque, speed and range, either as a security measure or to allow the car to be limited when handed over to a third party.
Speed Density
THE Speed Density (SD) feature changes the way the engine load is calculated.

When SD mode is activated, the ECU will disregard the MAF sensor reading. Instead, it will calculate mass airflow based on engine speed, manifold pressure, and air temperature, allowing the MAF sensor to be removed and a larger intake to be installed.

Speed Density can be toggled in any Map Switch mode. A hybrid MAF and Speed Density system can be implemented to enhance the accuracy of readings at low speed and provide maximum calibration at high power outputs. A range of activation options is available for engine speed, mass air-flow and manifold pressure. Talk to your tuner to discuss whether SD Tuning is the right route to go based on your objectives.
CANbus Inputs
Add a range of external sensor inputs which communicate directly over the CANbus. For example:
Zeitronix ECA-2 ethanol sensor
Zeitronix ZT-3 wideband sensor
Innovate LC-3 multi-sensor
ECUmaster CANswitch
Autosport AnalogX
Custom user-defined CAN sensor
CAN devices such as the AnalogX allow for multiple variable inputs that can be used to import 0-5v sensors, driver trim switches or even a combination including a 0-5v ethanol content signal.
CANbus Outputs
Add external drivers or controllers for boost solenoids, water injection, nitrous control, and even secondary port injection.
RaceROM Sequential Port Injection Controller
Using the Motiv Motorsport Reflex Box, you can bolt-on and control aftermarket port injectors, releasing the power from those bigger turbos and fuel pumps to deliver the maximum performance from your modifications.
Custom Maps
RACEROM CUSTOM MAPS allow the tuner to modify the behaviour of the factory ECU by inserting additional maps into the ECU's normal calculations.

For example, these can be for parameters such as ignition timing, fuel, boost and VVT, and inputs and outputs can also be re-purposed to measure custom sensors or solenoids not featured on the standard vehicle.

This facility lets you add custom compensations or even completely replace the calculations that are normally used. For example:
Per gear fuel enrichment factor
Vehicle speed-based ignition retard
Torque reduction for engine oil temperature
Throttle reduction for air-flow
Torque reduction for wheel-speed differential
E85 enrichment factor for injection volume
Custom traction control strategies for wheel-speed differential
RaceROM Custom Maps enables you to repurpose an input sensor and actuator output, allowing you to control devices that the manufacturer doesn't provide ‒ such as a wastegate purge solenoid or intercooler spray pump ‒ or to read data from a custom sensor such as for charge-air temperature, or sensors for ethanol content (Flex-Fuel).
Entire functions can be created by linking maps together, such as:
Boost control and wastegate duty feedback by repurposing the Carbon Purge Canister valve to act as a boost control solenoid
Enrichment factor for E85 content by connecting a Flex-Fuel sensor in place of the Carbon Purge Canister pressure sensor
Each of the custom maps can be logged and viewed using the ProECU log viewer.
Custom Fail-safe and Startup Maps
Fail-Safe Maps
Your tuner can configure maps to activate in a pre-determined error condition. Once triggered, the fail-safe map will remain active until the engine is stopped. This could be a map for, say, fuel-pressure drop relative to engine speed, and it could save the engine.

Startup Map
Your tuner can configure maps to deactivate when a defined condition is reached. Once it has deactivated, the map will not re-activate until the engine is stopped; this could be a cold-start correction that is only active until a certain temperature is reached.
High Horsepower Forced Induction Load Limiter Lift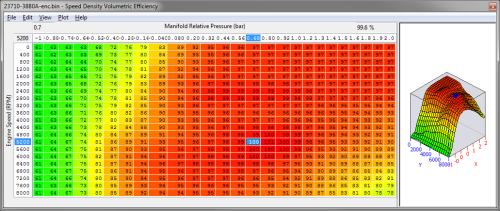 The High Horsepower Forced-Induction Load Limiter Lift feature allows for very high power output from cars with forced induction (i.e. a supercharger or turbocharger)
RaceROM Transmission Features
Increase the Clutch Clamping Pressure

Lift the factory limit line pressure of 16 bar to 20+ bar to limit slip and protect your clutches in cars running 1,000+ bhp. Your tuner can also adjust solenoid current limits, allowing the solenoid to be raised above factory limits to deliver a higher target clutch pressure.
Adjust shift points relative to vehicle speed
Log ECM and TCM simultaneously