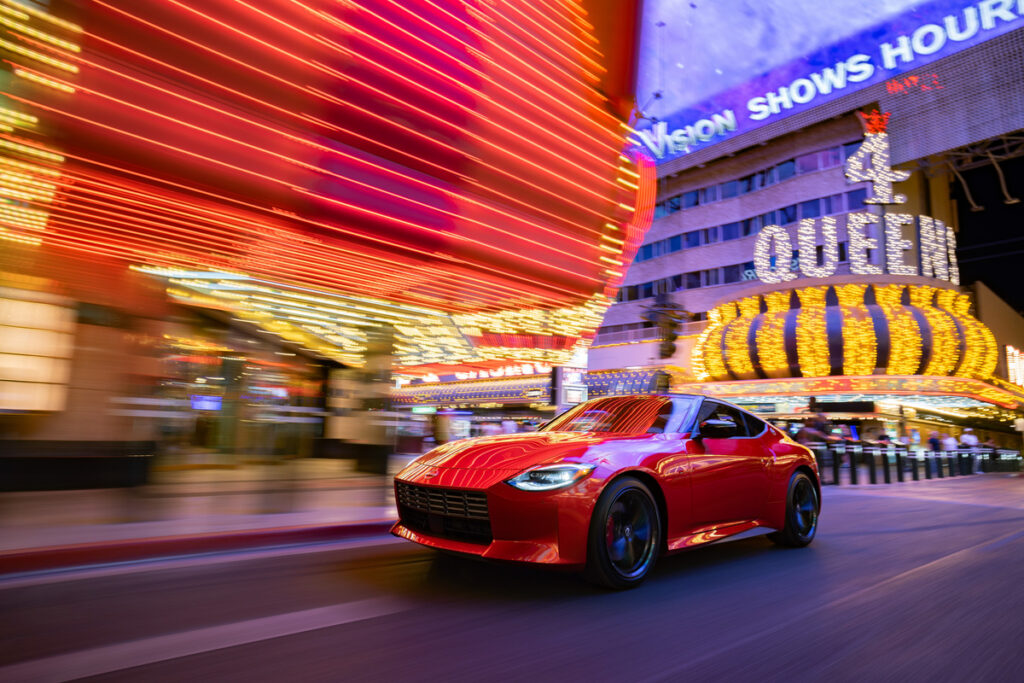 Supported Models
Nissan Z
2022 onwards models using the VR30DDTT 3.0 litre twin-turbo engine
RaceROM Custom Features
RaceROM Custom features are written into our tuning software to give you unique features that don't come as standard. They need to be set up by an EcuTek tuner, and you may be charged extra as they take time to configure.
Four-way Mode Switching

Swap between four different modes using either the cruise control buttons or ECU Connect on your mobile device. Which mode you are in will be indicated on the rev counter. For example, you could get your tuner to set up a tune on mode 1 designed for track days – Track Mode; For enjoying yourself on the road in mode 2 – Fast Road Mode; a self-adjusting FlexFule tune on mode 3 – Flex Mode; and a tune for driving your grandma around on mode 4 – Economy Mode. It's up to you to decide what set-up you want in each mode.
Live Boost Adjustment

Once your tuner has set this up in the tune, you can adjust boost live in each mode using the ECU Connect app or the cruise control buttons.
Launch Control with BOTL

Your tuner can adjust your launch RPM in the software. Discuss with them where you want the launch rpm to be set. To launch, put your foot hard on the brake. Floor the throttle past the kick-down switch. The BOTL (Boost-off-the-line) feature will automatically build boost as the RPM builds. Once at your target RPM, let go of the brake and enjoy a fully boosted launch!
Per Gear Boost Control

Your tuner can adjust boost in each gear and for a given accelerator position to get the maximum performance and traction in each gear.
Self Adjusting FlexFuel

No more worries about calculating the ethanol in the tank; our RaceROM self-adjusting flex-fuel does it all for you. Just fit a 0-5v Flex Fuel sensor, and off you go. Whatever Ethanol content in the tank, the tune will automatically adjust to give you optimal performance. Link up with ECU Connect to display the current Ethanol blend on a gauge in a dashboard.
Charge Air Fail-Safe

If the charge air goes above a specified threshold (the charge air cooler has not been bled properly, is too small for the modifications, or the ambient is very high), the fail-safe will reduce engine torque to protect the engine.
3 x ECU Inputs

Import 0-5V signals (wideband or flex-fuel sensor) through the exhaust gas temp sensor, boost pressure sensor or even an unused pin 60 of the ECU.
Valet Mode

Low power mode with reduced torque together with a time and distance limit giving you peace of mind when the car is in someone else's hands. Arms and disarm using steering wheel controls or via the ECU Connect app.
ECU Connect – Use your Phone to program the ECU and control your tune
Our free ECU Connect App can be used to control some of our custom RaceROM features in conjunction with our ECU Connect Interface. Find out more about ECU Connect here
The following features need to be set up in the tune by your tuner before the ECU Connect App can access them.
Mode Switching

Switch between four different modes as detailed above on the fly using your phone.

Boost Controller

Adjust boost in each mode live using sliders on your phone.
For more detail on ECU Connect features for the Nissan Z Platform, click here.
And there's more…
Monitor 100s of engine and gearbox parameters
Create unlimited personalised dashboards to monitor what you need.
Click here to find out more about dashboards.
Read and clear DTCs (Diagnostic Trouble Codes)
Reset your ECU
Check your before and after a tune with the Performance Analyser
Set up and send logs to your tuner direct from the app
Note: The above features do not require an EcuTek Tune and are available on nearly all vehicles manufactured after 2008